Personalized Mints, Custom Printed Candy Wrappers, Wedding Favors, Advertising Candy
© 2010 Minnie Mints. Have questions or need help? Call 800-303-0965 mon-fri 8am-5pm CST
Personalized candy wrappers with a delicious candy inside are great for parties, special events, wedding favors, giveaways, grand openings,
low cost advertising and promotions or anywhere that you want to have a message that keeps on giving and tastes great! Funeral homes want to advertise in a low key and unobtrusive manner and promotional candy is the perfect choice.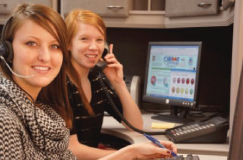 1-800-303-0965 Mon-Fri 8am-5pm CST
Personalized mints and promotional candy are pleasing to promote a funeral home: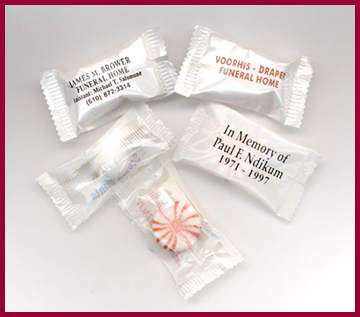 As a funeral home you need an advertising message that is both distinctive and unobtrusive.

Personalized mints and custom printed candy wrappers are an affordable way to provide your message in a quiet and unassuming manner with a product that everyone loves and will notice.

We can custom print your business logo and information on our mint candies or a loving memorial for your customers. The perfect business candy for a funeral home.